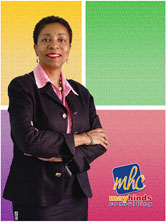 Welcome to May Hinds Consulting



Thirty four years ago

a young Barbadian with an entrepreneurial spirit was among the first batch of students from the Hotel School, then affiliated with the Samuel Jackman Prescod Polytechnic to graduate with a two-year Diploma (Credit) in Hotel Mid- management, she rose steadily from being initially a management trainee, to assistant manager, to being appointed one of two Barbados directors of Siestal Limited- a consortium of Canadian travel related companies operating two small- medium sized south coast hotels (Sand Acres and Rockley Surf).

Ten years later, she was appointed manager to wrap up the company's operations and subsequently started her own consulting practice (Hotel Management Services) in 1982.After carefully studying the full range of available options; May decided that catering to the small hotel niche would be the initial focus of her consulting practice. Her vision was to transform the small hotel sub-sector that she did, the legacy is supported by the ongoing use of the name (Intimate Hotels of Barbados) the name conceptualised under a 1988 Organisation of American States funded /Barbados Ministry of Tourism project for which HMS was contracted as Hotel Management and Marketing Specialist.

May served as Project Director for a duration of six years (1988- 1994) for the Small Hotels Assistance and Recovery Project (S.H.A.R.P.) – 14 small hotels comprising 300 rooms, working closely with the Ministry of Tourism. The Barbados Development Bank, Barbados Hotel Association, Barbados Statistical Service, the Barbados Board of Tourism, and Travel Intermediaries in the marketplace (United Sates of America and United Kingdom).
That technical assistance project brought together two other consulting firms namely Peat Marwick Associates (Financial Consultants) and Selby Rose and Mapp Architects Limited (Architect/Planners) resulting in working with a multi disciplinary team across the three consulting firms.
The broad objective was to strengthen the marketing efforts of the small hotel sector in Barbados.

May went on the serve as the OAS specialist consultant for small hotels in the Caribbean region, in 1994 she was contracted for one year to direct the "Assistance to Small Hotels" project for the Government of the Cooperative Republic of Guyana working closely with the Ministry of Tourism and the Guyana Hospitality Industry Association.
The broad objective was to strengthen management and marketing skills of the hotel sub-sector in Guyana.

In 1995 she was contracted, as International OAS Consultant to the St Lucia Ministry of Tourism. She served as Project Director resident in St Lucia, for duration of fifteen months (1995-1997) for the "Sustainable Tourism Development for Small Properties within the Tourism Sector".
This broad objective was to develop a 5 year plan for the development of small properties in St Lucia.

As a result of having to be frequently away from Barbados because of her association with this and other regional tourism projects, she decided to relinquish her interest in HMS in 1996 and opted to work as an independent consultant.

May Hinds continued association with the Organisation of American States and her specialization in the area of small hotel development in the Caribbean Region  led to the award of a contract for three years (1997-2000) to serve as the Barbados-based Associate of the ARA Consulting Group (Canada) a division of KPMG (LLP), she was ARA's Regional Project Coordinator/Consultant for the OAS funded regional technical assistance initiative "Caribbean Tourism Competitiveness and Sustainability Programme (Small Hotels)" conceptualised to assist small local entrepreneurs improve their operations. The OAS CTCS Project involved all 14 OAS member states.
The comprehensive long-term assistance program attracted support from other regional and international agencies.-1200 small hotels comprising 16,700 rooms.

Tasks included:-

Worked with the multi disciplinary team to conceptualise the project in particular the institutional structure.
Supported the Vancouver based Project Director at all stages of the project, providing liaison and communication with the OAS Directors and Directors of Tourism/or Permanent Secretaries  in all fourteen participating countries.
Provided advice to the Vancouver based Project Director and generally ensured that the needs and sensitivities of the region were reflected in the project delivery.
Served as member of the core team engaged in planning and coordination of the regional planning forum –Grenada 1998.
Co-designed the needs assessment approach and provided overall management for its execution in participating countries.
Trained and provided technical direction and on-going supervision of activities deemed consistent with objectives of position; and as required from time to time to the Officers from the Ministry of Tourism or National Tourist Organisation appointed by government to work with the project consultants.
Launched the project and facilitated orientation meetings for approximately 350 hoteliers in each participating country.
Interviewed stakeholders (private, public, labour, non- governmental organisations) during the needs assessment phase to assemble information on the legislative, regulatory and business environment within which the hotel operates in each participating country.


In 1997 she was sub-contracted by ARA Consulting Group Inc (Vancouver, Canada) for the Barbados Tourism Development Programme Sub programme A – Small Hotel Tourism Sector.  This study component comprised audits, surveys, work on investment, timeshare, all-inclusives and Gems of Barbados experience; working group workshops, and preparation of recovery plan including policy, marketing and implementation. Tasks required of the Subcontractor included attendance at working group meetings of the small hotel component, where possible; input into the research and survey methodology including questionnaire design and administration based on drafts provided by the contractor; input into the interview process and conduct of senior interviews relevant to the small hotel sector, in coordination with the contractor; collaboration with other members of the team on analysis of small hotel sector recovery requirements and collaboration on the preparation of the draft report; review of the draft report and participation in the presentation of the report.

Needless to say, whenever the name "May Hinds" is mentioned, most Barbadians and regional stakeholder make an instant connection with small hotels, it's rightful acknowledgment of her  sterling contribution to the development of small hotels not only here in Barbados but also across the Caribbean.

In 2000 Customer Service Strategies by May Hinds was introduced as the centerpiece of a service diversification and corporate repositioning strategy which aimed to extend the consultancy's focus beyond the initial client market of small hotels. It was developed directly in response to a dire need which May spotted as a customer patronizing various business establishments around the Caribbean.

Just as she believed when she began her consulting career that she could make a difference for small hotels, she equally believed she could help Caribbean enterprises to nurture a business culture where providing exceptional service is a pleasure and not equated with debasing servitude. To help them see there is not only personal satisfaction to be derived from making customers happy but also profits to be had through the pursuit of service excellence.

The Customer Service Strategies product, has proved to be a big winner for May Hinds Consulting. Most importantly, it has paid handsome dividends for several enterprises, across productive sectors (tourism/hospitality, manufacturing, retail, legal, health-care, commerce and educational institutions) that made the investment.
 
 
In pursuit of personal development and professional excellence In 2004, May was among the first cohort of Senior Practitioners in the Hospitality and Tourism industry in the Caribbean to obtain a work-related, project-based Master of Science degree (Hospitality and Tourism Management) through the unique professional mastery programme based on the authentic Action Learning concept run by the International Management Centres Association (IMCA) and Revans University. Her Research Topic entitled "Achieving Service Excellence: Customer Service Strategies for the Hospitality/Tourism Industry in Barbados", spawned discussions that eventually led to the creation of the National Initiative for Service Excellence (NISE).

In recognition of her outstanding record of service to Barbados and the Caribbean hospitality and tourism industry, she was invited to join IMCA & Revans University Honorary Court and received the honorary professional Doctor of Management degree in 2006.

Milestones include:

Barbados Hotel and Tourism Association – Supporting Services Member of the Year (Barbados, 2004)
Barbados Hotel and Tourism Association – Appreciation Award (Barbados, 2002)
Ministry of Foreign Affairs Tourism and International Transport –Certificate of Appreciation for Invaluable Service in the Area of Tourism Development (Barbados, 1997)
Barbados Hotel Association – Associates Award  in recognition of contribution to the BHA- (Barbados, 1992)


Today, thirty-four years later, May Hinds Consulting Inc. has significantly expanded and diversified. The Barbados-based regional consulting organization has clients in practically every segment of the tourism and hospitality industry who access a range of specialized products and services tailored to their needs. These products and services, which have also benefited a growing number of non-tourism business entities, fall under two headings: Business Development, and Learning and Development. Their overall aim is to enhance the competitiveness of each client through increased employee involvement and commitment and the establishment of service quality standards that support consistently high levels of customer satisfaction.



May Hinds Consulting Inc. is a member of the Caribbean Tourism Organisation (CTO). May is a member of the Research and Information Technology Committee.

In the Caribbean, TCI Research solutions are represented by May Hinds Consulting.

TCI Research is a research agency leading in destination competitive analysis, UNWTO-awarded for its reference TRAVELSAT© global program. It provides public and private players of the visitor economy with insights combining representative surveys with controlled Big Data targeted analysis covering the whole visitor experience from inspiration to sharing.